Looking for the Perfect Gift?
If you are looking for the perfect gift for someone you hold dear, these elegant heart shaped frames will allow you to create something truly unique that is sure to be treasured for many years to come!
Each beautiful frame is expertly crafted in Canada from solid hardwood (Walnut, Cherry or Maple) in three different sizes (12 inch, 17 inch and 24 inch), and can be filled with your choice of a photo, mirror, or laser engraved photo plaque!
These lovely frames are finished with exquisite detail using a high gloss clear laquer, allowing the natural beauty of the wood to shine through!  Other features include shatter-proof acrylic glazing and an innovative, fully integrated z-clip hanging system that will have your frame perfectly hung in no time at all!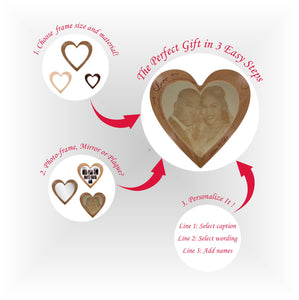 Featured collection- Stock Engraving, Ready to Ship!